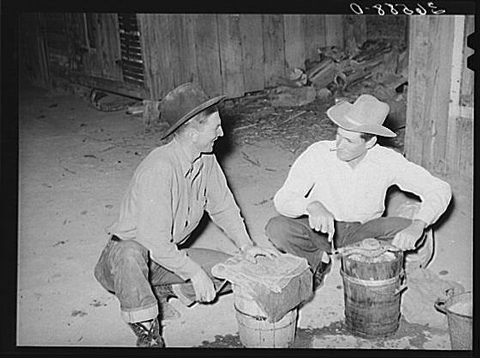 A thoughtful son gave us a Cuisinart 2-quart ice cream maker a couple of years ago, and we have used it often for celebratory meals and fun events. The big frozen cylinder stays in our freezer at all times, ready to churn.
Typically we make a rich cooked custard base for our ice creams. When the recipe booklet for the ice cream maker showed up recently, this recipe caught our eye. Skeptically, expecting grainy, gritty texture, we tried it. Ahhhhhh - perfection.
Not only is this easier than a cooked base ice cream, and not only is it easier to put together on a whim, but it stores in the freezer perfectly. Unlike a cooked base ice cream, which turn into sweet rock in our freezer, this ice cream stays scoopable. More than anything, it's an inspired flavor mixture. We like it with the full five tablespoons of instant espresso powder. (We've been using Café Bustelo, but undoubtedly many brands are tasty.)
It helps, too, that we are using fantastic Kentucky country cream, milk, and butter when we make this ice cream. We thank our farmer and the cows for the milk.
FanTAStic with Almond Cornmeal Torte.
From the Cuisinart Recipe Booklet, copyright 2006
Makes about fourteen 1/2 - cup servings
4 Tablespoon unsalted butter 1 cup slivered almonds, roughly chopped 1 1/2 cups whole milk, chilled 1 1/8 cups granulated sugar 3-5 Tablespoons instant espresso powder (to taste) 3 cups heavy cream 2 teaspoons almond extract 1 teaspoon pure vanilla extract
Melt the butter in a 10-inch skillet. Add the slivered almonds and kosher salt. Cook over medium-low heat until almonds are toasted and golden, stirring frequently, about 4 to 5 minutes. Remove from heat, strain (the butter will have an almond flavor; can be reserved for another use). Chill the nuts.
in a medium mixing bowl, use a hand mixer on low speed to combine the milk, granulated sugar and espresso powder until the sugar is dissolved, about 1 to 2 minutes. Stir in the heavy cream and extracts. turn the machine on; pour the mixture into freezer bowl, and let mix until thickened, about 20 to 25 minutes. Add the chopped nuts to the mixture during the last 5 minutes of freezing. The ice cream will have a soft, cream texture. If a firmer consistency is desired, transfer the ice cream to an airtight container and place in freezer for about 2 hours. Remove from freezer about 15 minutes before serving.
For Coffee Ice Cream: Omit the toasted buttered almonds, if desired; add 1 tablespoon Kahlua® or other coffee liqueur to the mixture.
Photo Credit: Russell Lee, Photographer for the Farm Security Administration. Taken June, 1940, in Pie Town, New Mexico. Photograph available from Library of Congress, Prints & Photographs Division, FSA-OWI Collection, [reproduction number LC-USF34- 036588-D]. Thank you, Library of Congress!