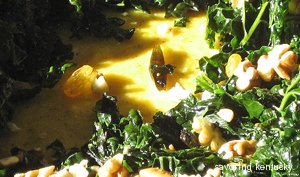 Excellent recipe sleuth and friend Elise Mandel brought this recipe to a Cornbread Supper in May, 2009, clipped from a magazine - but I do not know which magazine. In any case, I have tweaked the original recipe in several ways. The original recipe calls for Swiss chard. I made this dish using Elmwood Stock Farm's certified organic 2008 black kale (Cavolo Nero, Tuscan Kale, Lacinato Kale) that I had frozen. I did not realize until I started cooking this dish how interesting the flavor mix is, and how easy the dish can be made. This is especially true when the work of cleaning, tearing, and blanching the greens was done months before!
Flex your ingredients as needed, treating this recipe more as a suggestion of processes and ingredients than as a prescription. I used what I had: Black Kale instead of Chard, and toasted pecans instead of pine nuts, green garlic and garlic scapes instead of garlic cloves.
Prep: 30 minutes (if you are cleaning and preparing fresh greens) Cook: about 40 minutes (for polenta)
Start the polenta first:
1 1/2 cups cornmeal 2 cups milk 4 1/2 cups water 1 teaspoon salt (you may choose to add more later)
Put the cornmeal in a large, heavy-bottomed pan. Stir in the milk. Add water and salt. Cook over medium-low heat, stirring A LOT until the mixture is thick, about 25 - 30 minutes. Polenta will stick and then burn in the bottom of the pan if you do not stir it enough. Once the bottom layer has burned, the whole mixture tastes burned - so be sure to stir early and often. When the mixture is very thick, remove from heat.
Add: 2 tablespoons grated Parmesan, Asiago, or Romano cheese (or a nice local aged Italian goat cheese, the ones from Sapori d'Italia).
Stir well.
As the polenta cooks, prepare the greens.
About 3 1/2 pounds greends - Kale, Swiss Chard, collards, turnip, arugula, mizuna, poke, or mustard if you like the bite 1 tablespoon olive oi 3 garlic cloves, thinly sliced 1/4 teaspoon crushed red pepper flakes 3/4 teaspoons salt (you may choose to add more later) 1/4 cup golden raisins (these make a LOT of positive difference in flavor and texture, so use them if you can)
Wash fresh greens thoroughly through several waters to remove all grit. If using greens that have tough stems, tear or cut the leaf away from the stems. Cut or tear the leaves into bite-sized pieces. Leave the leaves damp with the water that remains after their last washing. Chard and tender kale stems can be stacked and cut into small pieces and cooked first, before adding the leaves, which are more tender.
Heat a large (10 - 12 inch) cast iron or steel skillet over high heat for a couple of minutes. Add the olive oil and lower the heat to medium. Add garlic and red pepper; stir and cook until the garlic is lightly golden, about two minutes.
Push the garlic to one side of the pan, raise the heat to medium high. If you are using chopped stems, add them to the pan and stir frequently for about five minutes, until stems start to soften. Add the torn leaves and the raising. Continue stirring and cooking until leaves wilt. (The raisins will burn if left too long in one place on the skillet.)
After the leaves wilt, taste one. If you want it more tender, add one or two tablespoons of water, lower the heat to medium, and cover the skillet for two minutes. (I like greens that have a chewy texture, so I skipped this step.)
While the greens finish (and while you continue stirring the polenta as it thickens), toast 2 tablespoons pine nuts, pecans, walnuts, or other nuts until lightly brown. (I use a toaster oven for this.) If you are using large nuts like pecans, chop them into fine pieces (the size of a pencil eraser, more or less) while they are still warm. (Of course you could get along with no nuts at all, or with a sprinkle of toasted buttered cracker or bread crumbs.)
When polenta and greens are done, put the polenta in a large platter or flat bowl so it can spread to about 1 1/2 inch thickness. Top with the cooked greens. Sprinkle the toasted nuts over all. Serve immediately. Serves at least six as a main dish.