Serve Local Foods At Big Events; Grow Our Economy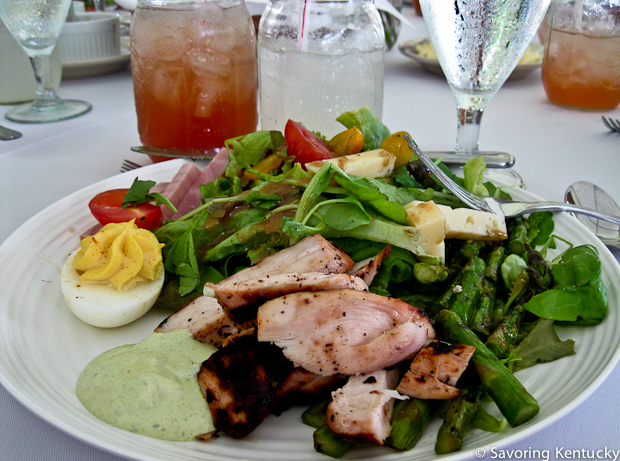 Note: Yesterday's post, A Local Apricot Changes My Mind, focused on reasons to choose homegrown and locally grown foods for our daily personal and family meals. Today's post spotlights the economic benefits of expecting, insisting, and assisting our major nonprofits and conference organizers as they shift to local sources for their event food and drink.
As I said yesterday, I want us all to be lucky. I want every person to be able to have the privilege of being a picky eater, choosing only the most flavorful, nutrient-rich foods, and enjoying wonderful health as a result.
On the personal level, we can make choices that move in that direction. We can grow some of our own food. We can be as nice as possible to neighbors who have gardens and chicken coops—or work out explicit trades with them that mean everyone eats better.
With effort and intent, we create some of our own good fortune. For example, by choosing to grow and buy superb local food, we take steps toward a secure regional food system, which I define this way: everyone eats delicious, nutritious food that they like, produced in ways that can continue forever, grown within 100 miles of home.
As we take steps toward that goal, we also plan and prepare to weather bad luck. We strengthen our local and regional sustainable food production systems; then, if a disaster strikes and we need to feed ourselves, we can.
Every personal, individual and family choice makes a difference. Yet if we want to go faster toward a secure, economically rewarding, sustainable regional food system, we need to bring change to big kitchens: the schools, jails, hospitals, state parks, universities, corporate dining rooms, large restaurants, caterers and hotels that produce, together, thousands of meals daily in a community of any size. They offer the greatest opportunities for accelerating regional food security. I will focus on only one type of these multi-meal situations today: the meals dozens of nonprofit organizations provide at large events, conferences and fund raisers annually.
Here is good news: in recent years, at a small number of Kentucky events, organizers have promised and delivered locally grown or Kentucky Proud food, prepared by the regular chefs at several different institutional and commercial sites. A few examples: Southern Sustainable Agriculture Working Group, the Kentucky Fruit and Vegetable Conference, Growing Kentucky conferences, Southern Sustainable Agriculture Research and Education, First Friday Sustainable Agriculture & Food Systems networking breakfasts at the University of Kentucky, and special meals at the University of Kentucky South Farm Sustainable Agriculture research site. These pioneers demonstrate that locally sourced big event meals are possible.
Earlier this month, I ate one of the most delicious event meals I can remember, with many ingredients coming from Kentucky farms. The Carnegie Center for Literacy and Learning held a fund raising luncheon for more than 200 people under a tent at a horse farm. Dupree Catering cooked, using foods from Elmwood Stock Farm, Marksbury Farm Market, Broadbent Hams, Kenny's Country Cheese, and others.
If ever a locally sourced meal was appropriate, this was it, given that lunch speaker Barbara Kingsolver wrote the best-selling local eating account, Animal, Vegetable, Miracle. After lunch, in her gracious way, Kingsolver pointed out what only makes sense: when we support our local growers, we support our own communities' commonwealth.
Contrast this meal with one I attended exactly four days later. Held in a major hotel, with perhaps 400 identified community leaders and activists present, I looked at other urban gardeners present at my table and saw on their faces what I had been thinking: "I'm going to eat that?
"That" was a tired looking salad, with dried out carrot shreds on top. Here's my return to the food snob theme, promised yesterday—I know you have been anticipating it eagerly. At a time when fresh salad greens stuff every gardener's refrigerator in this region, when some of us happily eat two beautiful homegrown salads a day, we found it hard to imagine taking even a bite of the wilted, old, depleted, bagged salad "from away." I felt as if, inside the hotel ballroom, we occupied a place called "Anywhere," a land of tasteless, rootless food, while just outside the door, the lively, dynamic, food-loving, flavor-filled central Kentucky region brimmed over with fantastic food that had no way to get inside the hotel kitchen.
How much difference would it make if we could build new chutes through the walls and slide great local food from local growers into all the big kitchens in our region? A lot. Even in the absence of specific, recent data we can piece together some notion of the scale of benefit, learning from studies in other states and an earlier Kentucky-based study:
From Organic Consumers Association, February 6, 2009:
'The Michigan Land Use Institute (MLUI) speculates that the Grand Traverse region could stimulate more job growth and entrepreneurship by supporting its 2,229 farms through cooperative efforts like the Food and Farm Network. Moreover, a 2006 MLUI study found that farms could generate 1,889 new jobs across the state and $187 million in new personal income by selling more fresh produce locally."
From Building Wealth in Our Health,Community and Economy: Developing a Local Food System in the Springfield [Illinois] Area, October 2010:
"The results are outlined in this report which reveals that with the current farm and food system over $633 million leaves the region every year with relatively little of that wealth remaining. Yet, if Sangamon Region consumers purchased just 15% of the food they need for home use locally it would produce $100 million in new farm income."
From Bringing Kentucky's Food and Farm Economy Home, Community Farm Alliance, September, 2003:
"The Kentucky Cornucopia report in 1980 conservatively stated that the Kentucky employment multiplier for agricultural production is estimated at 1.3 and the multiplier for local food processing is 1.5, and these figures are still considered reasonable.
Thus, 10 new farm jobs in Kentucky would generate three additional jobs in the farm service sector of the local economy, and 10 new local processing jobs would generate six additional jobs in the community.
An income multiplier effect also applies to regional cash generation. According to these multipliers, every $1,000 increase in net farm income would generate an additional $930 of income in the community, creating a total of $1930 of new wealth.
Using these multipliers, the Cornucopia report estimated that the high level of food imports in 1980 cost Kentucky 126,000 jobs. Current estimates find that if Kentucky were to raise its per farm average direct marketing sales to the national average, it would generate an additional farm-level income of $7.9 million and have an estimated statewide economic impact of $15.8 million."
Even though buying locally makes good economic and health sense, and locally grown food tastes better than trucked-in food, so far we see baby steps instead of full scale commitment to local sources for our food and drink. In the summer of 2012, it is hard to buy local ingredients at the right time, in the right quantities, at the right level of security and food preparation, for use in large scale food and drink preparation. We need to invent or adapt systems for production (quantity) and distribution (getting the right ingredients to the right places in good shape). All that invention equals the creation of new jobs, perhaps in that "farm service sector" the Cornucopia Report mentioned.
I appreciate all the baby steps. They point toward a secure food system, which would have both immediate and longer term benefits. Immediately, channeling increased income into the bank accounts of farm families generates those local economic multipliers that boost community jobs and economies and increase our shared wealth. In the longer term, if farm families and communities enjoy stable, abundant family and community income, Kentucky growers are more likely to be in place, prepared to feed all of us from our own region should that need arise.
What accelerators can we invent and apply so we develop the complex parts of a new, locally based food system as soon as possible? I will propose just one step: For each big dinner you anticipate attending in the coming year, contact the sponsoring organization now and ask that they commit to sourcing the dinner from local or state food and drink producers. If you can, offer to help with the legwork, which will be extensive. Tasks may include conferring with chefs and hotel purchasing agents, identifying local brokers or distributors who know how to locate the producers of specific ingredients, and working with finance committees on appropriate pricing for the meal and drinks. It may take more than one year to prepare for the switch. In some cases, event sponsors may need to make agreements with growers before the growing season, so growers have time to grow enough food.
When I imagine the impact on individual events if each sponsoring organization commits to local sourcing, here's what I hope I would see at big events:
Drinks, including any coffee, wines, spirits, juices, seltzers and bottled waters, will be as locally sourced and processed as possible.
Food at all meals and breaks will be as locally sourced and processed as possible.
Individual gifts or favors—"swag"—will be locally sourced.
Local or regional musicians and entertainers will be engaged.
While we have virtually no systems for doing what I am suggesting, the systems for continuing with the status quo are streamlined, efficient, and easy for purchasers to use. Hotels have suppliers who easily contract for and deliver enormous quantities of bagged salads, chicken breasts, and frozen rolls from Anywhere, making it easy for chefs to provision the standard event meal in our towns. Building new systems, and paying for them, will take commitment, focus, and persistence.
We may as well get to work, though, because we want the rewards of a local approach. We are not alone. On June 12, 2012, New York City announced new local food procurement guidelines intended "to promote spending on sustainable local and regional food, with a focus on food procurement from New York State suppliers, to encourage consumption of fresh, seasonal food and to bolster local economies."
If we go this way too, we move toward my dream of all of us being lucky, all of us being picky enough to choose great local food, all of us being food snobs who prefer the locally raised chicken thigh or pork shoulder, the just-picked fresh salad greens and the locally grown fruit to the taste-challenged, nutrient depleted foods from Anywhere. Even more wonderful, to me: our growers will have the lives they deserve, and will serve as our authentic homeland security.
Last word privileges go to Kentucky writer Barbara Kingsolver: 'Food is the rare moral arena in which the ethical choice is generally the one more likely to make you groan with pleasure.' Animal, Vegetable, Miracle(2007)
*****
You don't get Savoring Kentucky posts by email, but you would like to, free? Here is our
110 percent no spam guarantee and email subscription information
.