Restaurant Reconnaissance: How Lo(cal) Do They Go?
Recently quite a few local restaurants, including those just opening, state their commitment to using locally grown ingredients in their meals. While we cheer the fact that "local" has become a positive marketing term here, knowing a bit about seasonality and even about local food distribution can lead to a bit of skepticism about some claims. Curiosity abounds about whether the stated intentions and the reality on the plate will match. In this post we check out the extent to which a few local restaurants live up to their written aspirations to serve locally sourced food.
Editor Tom Martin's Business Lexington story about Sabio, the new restaurant opening in Dudley Square, included a statement by executive chef Javier Lanza that begged to be checked out: "'We want to use as much Kentucky Proud produce as we possibly can. That is key to everything we do,' Lanza said."
So in service to you, dear readers, off we went to lunch at Sabio to check out its local-ness, also touted on the restaurant's website.
Before elaborating on that, I can report that the food is nicely prepared. My companion said the complimentary bread plate included the best baguette-type bread he has had in a local restaurant. The rich French onion soup pleased me. The two roast beet/goat cheese frisée salads we had, one with chicken, had much to recommend them—just not local sourcing, as far as we could tell. Our server knew of nothing we were eating that came from local farms.
Our simple Sabio meals included lots of opportunities for using local ingredients in April. Flour, butter, onions, beef (or perhaps veal) for the soup stock, greens, chicken, goat cheese, herbs, and possibly beets could have been local, Kentucky Proud products. Perhaps some were, but if so, the restaurant had not yet trained its staff to know and share that information.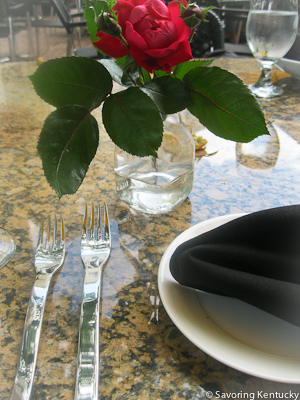 We saw a brunch menu by mistake. It included Weisenberger grits for a Shrimp and Grits entree. Sabio serves Caffe Marco coffee, roasted in Paris, Kentucky. That's it, so far, for what we know about local-ness at Sabio. With a capable chef who wants to support local growers, let us hope the server has not yet been trained, or the local supply chain simply not yet established at this promising new spot.
We checked out The Local Taco, too, curious about reports that they served "a lot of local stuff." For example, one of their signature tacos is called "Local BBQ," but it seems that particular "Local" refers more to the name of the restaurant than to the source of the meat. I asked the cashier before ordering what ingredients are local. "All our meat is local," she said. "All?" I asked. "Yes, it all comes from Critchfield." I appreciate much about Critchfield Meats, but meat that comes from Critchfield could be sourced from a lot of non-local places.
On the other hand, Alfalfa Restaurant, subject of an excellent Lexington Herald-Leader review today, has always bought produce and meats from local growers, as best it could. Recently owners Jim Happ and Jake Gibbs have doubled down on local sourcing. All eggs now—125 dozen a week—come from central Kentucky farms. Chicken dishes include an option: for a small upgrade, diners can choose Kentucky chicken. Saturday brunches, always legendary, now include the extra benefit of Kentucky ingredients bought that morning from local growers at the Lexington Farmers Market two blocks away. The cute cart Alfalfites use to wheel the local goodies to the restaurant may be Alfalfa's mid-life crisis vehicle—the restaurant will soon turn 40.
Like Alfalfa, Windy Corner Market and Wallace Station feature many locally sourced items, without charging fine dining prices. Honestly, I don't know quite how they do it. Savoring Kentucky hopes Sabio, other new restaurants, and established eateries will figure out the magic and expand their locally sourced offerings. Either that, or perhaps our local farms will follow a trend toward on-farm restaurants that cook what they grow. Nothing is more local than that.
You don't get Savoring Kentucky posts by email, but you would like to, free? Here is our 110 percent no spam guarantee and email subscription information.