How We Love Alfalfa Restaurant—And How It Loves Us Back
Some restaurants become so important in our lives, we long for them when we are away. Alfalfa Restaurant has reached a magical age, 39, because its food, people, and physical space will not let us forget them. Savoring Kentucky loves Alfalfa, which honors us by serving as one of our treasured site sponsors. We write often about Alfalfa, its food and people. Examples—just a few:
Dinner with Casimir, Help for Sister Communities
We Add Another Brilliant, Beloved Sponsor
We Salute Cathy Martin of Alfalfa Restaurant
Even though we have said before that we like Alfalfa's egalitarian style of service, we have not focused on the ways Alfalfa wraps thoughtful services around its customers, making us feel valued, special. Here is a new Alfalfa story, with an unlikely food star, the Tuna Melt sandwich, which Alfalfa usually serves only at lunch.
The human star of our story is a Beloved Female Family Member whom we will call "Sarah," for reasons that may be obvious already, if you noted the text inside the red arrows in the top photo. Sarah first visited Lexington in her mid-20s, after long stints in city-ish places like Chicago, Washington, D.C, and Madison, Wisconsin.
A few years ago, in her early 30s, Sarah moved to Lexington for a year-long job situated about a block from Alfalfa. And here she fell into a fascination with Alfalfa's Tuna Melt lunch sandwich, which the restaurant's menu describes in typical understated Alfalfese, as "Tuna salad with cheddar cheese and fresh tomato." Nothing in those words suggests a crave-worthy menu item, although Savoring Kentucky has it on excellent authority that favorite Kentucky Hollywood star Ashley Judd has shown a similar fondness for Alfalfa's Tuna Melt when she is in Lexington.
Without having tried the sandwich, relying solely on the menu description, a hungry person new to the Tuna Melt will have no idea that (1) master baker Tom Martin makes the whole wheat sandwich bread daily; (2) the lovely bread is then toasted to a perfect crunch; and (3) the sandwich comes with still more delicious Alfalfa food—either an Alfalfa salad, soup, or side dish of the day. Once Sarah tried Alfalfa's Tuna Melt, perhaps her workday proximity to the restaurant elevated the sandwich to that special status of food that will not leave us alone, finding ways to beckon and insist we keep it in mind.
Recently, in order to attend a friend's wedding, Sarah came back to Lexington from her present home in Washington, D.C. Being a good planner, she knew the busy weekend allowed only one dinner-time opportunity to eat at Alfalfa during this visit. Sarah checked out Alfalfa's website in advance and learned the sad news that Alfalfa offers Tuna Melts only at lunch.
Too bad she did not share my passion for Alfalfa's cabbage salad with miso dressing, always available...
or her honey's preference for Alfalfa's iconic beans-and-rice dish, Hoppin' John...
and, being vegetarian, she has no interest in my favorite dinner entrée, Chicken Talese, which the menu describes as "One or two sautéed chicken breasts on a bed of fresh spinach with sautéed mushrooms and our Swiss cheese cream sauce," available with either conventionally raised or Marksbury Farm Pastured Chicken.
Readers—even so, we found a way. We appealed to Alfalfa co-owner Jake Gibbs. What if we call in advance on the day of our Alfalfa dinner—might the cooks be generous and make an exception? Could they make just one teeny-weeny Tuna Melt at night for a true fan returning from afar?
Circle back up to the top photo and you'll see how Alfalfa met our request. Instead of saying no, and instead of quietly making Sarah her exceptional Tuna Melt, Alfalfa chose to add Tuna Melts to the dinner menu as a one-night special, named in Sarah's honor. Six friends and family gathered with Sarah, each of us enjoying our favorite dishes from Alfalfa's wonderful evening menu. We heard others in the restaurant talking about the Tuna Melt, and perhaps they enjoyed its singular evening appearance, too.
And then the icing on the cake. Without any pre-planning at all, the dessert menu happened to include Sarah's favorite dessert, carrot cake, a traditional Alfalfa standard that has not graced the recent dessert lineup very often. Alfalfa's master baker, Tom Martin, makes the most exquisite layer cakes and other desserts, and has for decades. I could pick his Italian Cream Cake out of a lineup blindfolded.
At so many points in the evening, I could have said, "That takes the cake." We felt special. We felt appreciated. We felt lucky. We felt like telling a whole lot of people about how well Alfalfa treats its customers. We remembered our certainty that Alfalfa and its food (the miso dressing in particular), evoke something distinctively Lexingtonian, constituting the true heart of our sweet city, even suggesting our city's entry in any competition for memorable, chauvinistic bumper stickers—"Lexington: Home of Alfalfa Restaurant's Miso Dressing."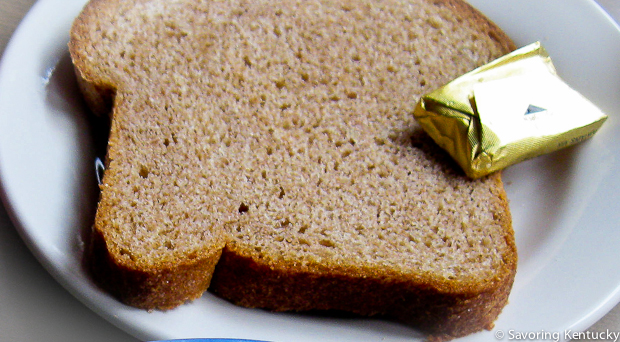 Later Sarah told me more of her own Alfalfa story, adding to my sense that Alfalfa's special personality is interwoven with our city's identity, at least for several thousand dedicated Alfalfa customers, past and present. Sarah reminded me that on her first visit to Lexington, we took her to Alfalfa for dinner. That night, she said, being in the restaurant yielded this thought: "I like this city. Being here for a while could work out really well." And that was even before she met her Tuna Melt.
It's a precious gift of openness, spiced with the possibility of belonging, that Alfalfa extends to its customers alongside its good food. Alfalfa serves as an unofficial hospitality center, welcoming newcomers to Lexington and embracing wanderers who find their way back. Our city's official tourist and newcomer greeting groups should ask for that Tuna Melt recipe—though I doubt the magic will work unless they put some miso dressing somewhere on the plate.
You don't get Savoring Kentucky posts by email, but you would like to, free? Here is our 110 percent no spam guarantee and email subscription information.