Kentucky Crafted: Here Comes Sweet, Sweet Sorghum!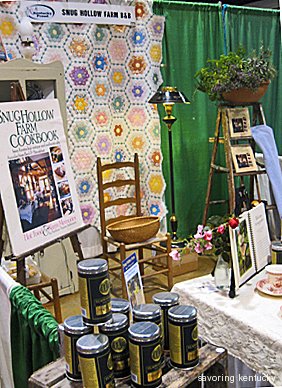 The Big Week, finally. Instead of my usual pursuits—working with photos and words—this week I find myself spraying boxes of books with flame retardant. Making lists. Checking thrice.
I'm going to Market! Kentucky Crafted: The Market, to be precise. It's at the Lexington Convention Center. March 3 and 4 are for retail—for you, for the public. March 1 and 2 are dedicated to wholesale buyers of books, art, crafts, and other beauties. If you are a bookseller, gift basket/box maker, or gift shop owner with a love for true Kentucky, you will be there.
I'll be sharing booth 410 with the wonderful Barbara Napier, innkeeper at Snug Hollow Farm Bed & Breakfast and author of the delightful Snug Hollow Farm Cookbook, available on the inn's website.
Here I am with Barbara, below left, at a book signing at Windy Corner Market last fall. You can see a bit of a preview here, and above, left, of Barbara's beautiful installations when she sells her cookbook and her B&B. I'm a learner, but expect our booth to be as beautiful as the topics we feature: local, sustainable, homegrown, Kentucky food - or "artisanal," if you like that word. My topic is sweet sorghum syrup, and Barbara's is fine, delicious, accessible, vegetarian cooking.
Today (February 28) is the last day for buying discounted tickets to the retail days at Kentucky Crafted, March 3 and 4. Buy one day passes for $8 instead of $10 and two-day passes for $12 instead of $15 here. Save those dollars and bring them to Booth 410!