Lee Ann Jones and Lisa Munniksma: HWC-2018-03-13
Listen to this episode here.
We'll put the photos first, since we have a few more than usual this week: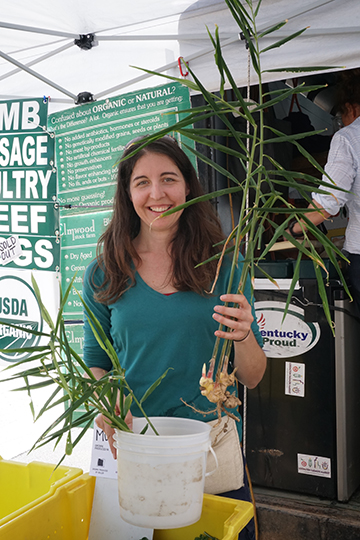 When I first met Lisa Munniksma, she edited Hobby Farms and Urban Farm magazines. I was impressed. I didn't yet know all the other reasons to respect Lisa: her experience as a farmer, her adventures around the world, farming as part of WWOOF (World Wide Opportunities on Organic Farms), her blogging expertise, and her skills in restaurant kitchens. All those experiences, and more, help Lisa in her new job as the community engagement coordinator for the Franklin County Farmers Market in Frankfort, Kentucky.
Ouita Michel has talked for years about the wonders of Happy Jack Pumpkin Farm, and about her respect for and appreciation of Lee Ann Jones, who married Richard Jones and started farming around 1996. Lee Ann organized the Franklin County Farmers Market at the same time she began farming—imagine!—and is in her 22nd year as the Market's manager.
We had a beautiful time talking with these two women. Ouita, an enthusiastic Franklin County Farmers Market shopper (both for home and restaurant use), contributed details, stories and more information as the show proceeded.
It's an energizing, encouraging show about work, deep friendship, collaborating, supporting growers, connecting communities, and, of course, great food.
Enjoy!