Wilt That Salad!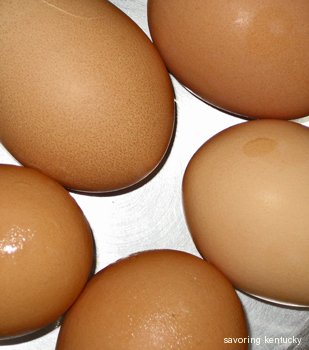 The things we did with eggs this weekend:
> Scramble with Stonecross Farm sausage.
> Make gougères - French cheese puffs, sort of. (Here's a David Lebovitz recipe close to the one we used.)
> Make impromptu deconstructed deviled eggs "vinaigrette" with eggs originally intended to garnish fresh asparagus from our garden.
> Make wilted salad. Or "killed" or "kilt" salad, if you prefer.
This is about the salad. In the past, as noted here, moderately industrious families likely made this Kentucky mountain spring delicacy with their own homegrown and home-processed ingredients, needing only salt from an outside source.
At our house, a week or so before the first homegrown lettuce is big enough to qualify as micro-greens, our salad owed a lot to the local markets. From Lexington Farmers Market we got Blue Moon spring salad mix, Elmwood Stock Farm eggs, and Stone Cross Farm smoked bacon. Salt, cider vinegar, and maple syrup came from Good Foods Market. We snipped one sprig of our own green onion.
There's not a lot of technique.
Boil eggs: Use eggs that are at least one week old. This prevents the inadvertent introduction of coarse language into your otherwise tranquil kitchen, since extremely fresh eggs hold onto their shells, making them maddening-to-impossible to peel smoothly. Cover your fresh-but-not-too-fresh eggs with cold water, and cover the pot with a lid. Bring gradually to a boil. Boil one minute. Cover and let set eight minutes. Drain hot water, and replace with cold water. Wait a few minutes. Crack the eggs all over. Peel. I used three eggs for two people.
Wash and rinse lettuce; put it in a heat-proof bowl. Use double the amount of your usual salads. This one is going to melt away to a much smaller version of itself.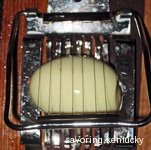 Cook the bacon. Allow about two pieces per person. Use your good bacon protocol: Cast iron or heavy skillet, cold, low-medium heat, turning as often as needed to produce crispiness all around. When the bacon is done, lift it to a cutting board. Cut it in small pieces while still warm. Cutting while warm keeps the bacon from flying into Aunt Hattie's eye as she sits near you, watching you cook. While the bacon cooks, slice or crumble the eggs. If you have one of these strange egg slicing tools -- much loved by one of our sons as a young person -- your egg slices will be beautifully even.
Until you start eating your salad, of course. Crumbling your boiled eggs with fingers or fork will work just as well as slicing. Use your keen imagination to decide what egg texture and look suit you. Put the eggs on a cutting board or in a dish. Do not add them to the salad yet.
Chop a green onion (or more, or less than a whole one, to taste) in small pieces and put on top of the salad greens. I use only the green stems, but my mother (and very likely her mother) added the chopped, "hotter" white parts of fresh spring onions for this salad, and so should you, if you like that biting, fresh hot new onion taste.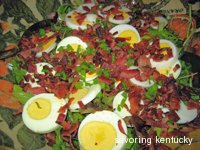 Once the bacon is lifted from its hot oil, leave the heat on, and add about 1 Tablespoon good raw cider vinegar to the skillet. It will steam and hiss and splatter - and it may make you cough, so try not to breathe in the steam just at first. If you like a sweet-sour-salty combo, add 1 - 2 Tablespoons maple syrup or brown sugar as well, and stir, stir, stir with a wooden spoon or heat-proof whisk. (Classic wilted salad in Kentucky is completely savory. No added sweetener of any kind.) Add a pinch of salt and a few grinds of fresh pepper. When all is sizzling and boiling away, carefully pick up the entire skillet, and pour the mixture over the salad greens. Put the skillet in a safe location, and toss the greens as they wilt and shrink.
Top the salad with the sliced eggs and chopped bacon. Serve. Oooh and aaaah, just like our great-grandparents did -- I'm pretty sure.