Third Annual Doughnut Day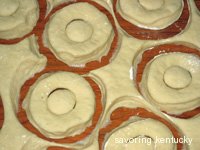 It took four of us to cook them, plus an emergency delivery of confectioners sugar, but we served about 200 homemade doughnuts to friends and neighbors last Saturday morning. The doughnuts came from a double recipe of Mother and Dad's Saturday Night Rolls I had made the night before. The double recipe produces about 135 doughnuts in the traditional shape, 60 "triplets" made of three "holes" pinched together, and a few "logs" made of dough scraps. To celebrate the Third Doughnut Day, I have added a photo gallery to Mimi's Homemade Doughnuts, the instruction page for these sweet and satisfying festive family favorites.
Although doughnuts form a recurring theme here at Savoring Kentucky, the topic does not recur as often as doughnuts themselves recurred in my parents' kitchen -- that would be almost weekly. And although key informants reported over the weekend that the trend toward homemade doughnuts in Washington, D.C. has yielded to cupcakes as the newest sweet delight, Savoring Kentucky will stick (ahem) with doughnuts.
Besides, who could eat cupcakes on a Saturday morning? That's doughnut time, and we have the empty confectioners sugar bags to prove it.
____________
UPDATE: A REAL chef/cook/caterer, a dear family member, sent a comment that adds another option for doughnuts:
If you want the taste of a doughnut without the 'fry' here is a recipe muffin recipe that tastes surprisingly like doughnuts. The cottage cheese creates a tender cakiness and the lemon peel does something pizzazzy.
Cottage Cheese Muffins 1/3 cup sugar 3 Tbsp. butter 1/2 cup creamed cottage cheese 1 tsp. lemon zest 1 egg 1 3/4 cup homemade bisquick (or packaged) mix 1/2 cup milk Cream sugar and butter. Add cottage cheese, lemon zest and bisquick. Combine egg and milk and add, folding in to just moisten ingredients. Bake in greased mini-muffin tins at 400° for 20 minutes. Yields 20 minis.