The Proof is in the (Bourbon Red) (Kentucky) Turkey!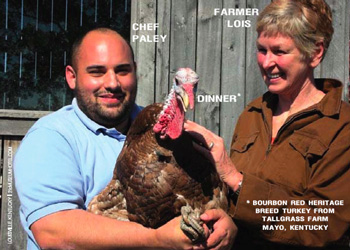 It's thrilling when excellence, delight, wonder, fun, flavor and Kentucky-ness all meet on one historic street corner in the Commonwealth, as they do at 700 West Main in Louisville. That's the location for 21c Museum Hotel and Proof on Main restaurant. All this has something to do with the photo above, too. Lois Mateus, right, generously shared the photo and a Turkey Tale with me. On the left, Proof on Main's chef Michael Paley holds a prized Bourbon Red heritage turkey Lois reared at Tallgrass Farm in Mayo, Mercer County.
Lois and Tim Peters, her husband, also raise grass-fed goats and Angus cattle sustainably, and use their farm -- which is protected by an Agricultural Conservation Easement -- as a living laboratory intended "to preserve farmland from random development through conservation easements and to demonstrate that it is possible to produce food of the highest quality, working in harmony with the environment and nature."
Sadly for the turkey, though - and for Lois, who is spending a day this week "processing" her birds -- happy turkey days on the farm must end so Chef Paley can serve a Kentucky breed of turkey, grown sustainably on a Kentucky farm, at his Kentucky-centric restaurant this Thanksgiving. We know from Michael Pollan, Joel Salatin, Barbara Kingsolver and others that growing poultry sustainably on pasture can be good for the birds, the pasture, other livestock, and certainly for the humans who eat the delicious, life-sustaining results. We trust the diners will offer real gratitude for this food.
So much happens at 21c and Proof to expand the usual notions of Kentucky. In the hotel, a stately space, owners Laura Lee Brown and Steve Wilson display witty, engaging art from their private collection. The result, for me at least, was wonder. Wonder of the "I am so glad to be alive and be here taking this all in" sort, not an everyday experience once one passes the age of five - not even if one IS a Kentuckian surrounded by wonders every day.
Brown and Wilson's building, contents, and guest satisfaction just landed 21c the number 16 spot on Condé Nast's 2008 Readers' Choice list of the Top 100 Hotels in the United States. This follows a spot on Condé Nast's 2007 "hot list." I find the 2008 honor particularly compelling, because visitors to a 90-room hotel in a midsized lower midwest/upper south city ranked the experience so positively that 21c keeps company on the list with a slew of Four Seasons and Ritz-Carltons in Chicago, New York City, and other likelier "hotel cities."
People like 21c. Perhaps because 21c so clearly likes people.
So how did Lois Mateus, who has her own multi-faceted and quite amazing life story, end up talking turkey with the people at Proof? In part, Lois says she and 21c co-owner Steve Wilson are "best old friends and farmers who are still honing their childhood 4-H skills and rural footings as 21st century champions of local food." Steve and his wife, Laura Lee Brown, farm sustainably in Oldham County, raising bison and vegetables that show up on Chef Paley's Proof menus. Steve took part in the 4-H International Youth Exchange program, IFYE, a program I "met" when I served in the U.S. Peace Corps in the Philippines.
I do hope 4-H and FFA programs in Kentucky are going to grow and improve, developing grounded, capable leaders in cities as well as small towns. We need lots more people like these "best old friends" to guide Kentucky to its full agricultural, environmental, and human potential. All moves in that direction call for heartfelt thanksgiving.