The Flowering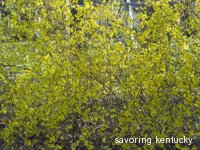 Add to the abundance of edibles already appearing this spring a generous flowering of events about food, food systems, farming and agriculture of the sort intended to sustain Kentuckians from now on. Two food summits will take place soon in neighboring cities. These may be the first Kentucky food summits. Certainly the idea of a food summit is new to me, and promising.
Community Farm Alliance invites us to "Everybody Eats!" From the Ground Up: First Annual Louisville Food Summit this Saturday, April 11 ---- well, perhaps not. Their event is sold out. Good for them!
Berea College kicks off its April 16-17 Food Summit with the irrepressible, inimitable Joel Salatin of Polyface Farm leading a convocation and speaking at a local foods dinner. Spend eight minutes with Joel here as he talks about forgiveness as a farming principle. Several of the Food Summit events are open to the public.
Next week in Lexington, the Gaines Center for the Humanities at the University of Kentucky brings Will Allen to a public forum at the Central Library, 140 East Main Street, Monday night, April 13, 6:00 PM. Allen founded Growing Power in Milwaukee, and received a MacArthur Foundation fellowship in 2008.
I am eager for a different type of event that takes place this Saturday, April 11: the first day outdoors in 2009 for the Lexington Farmers Market. This year the outdoor Market moves to a new location on the west side of the old Fayette County Courthouse along Cheapside Park, between Main and Short Streets, and along Short as well. Opening day outside means a lot more growers come to the Market. They will bring with them new green things to eat (green garlic for sure, thanks to Blue Moon) and other tasty bits I can hardly imagine!
If you do not already subscribe by email, and would like to receive new Savoring Kentucky posts by email:
Delivered by