Stems and All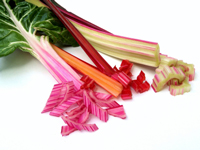 One fine thing about the world of food: Always, always there are new tastes and experiences to keep me interested. The surprise is how much of what seems new turns out to be timeless. In 2008, I tasted several timeless foods for the first time, amazed less by their goodness than by my ignorance of their goodness, given that they had surrounded me all my life. Mulberries and pawpaws, for instance: both these grew a short distance from my home in beautiful Wayne County, but I never tasted them there.
Just this week, I learned from a young friend that serviceberries are edible, even tasty. A serviceberry tree, also called "sarviceberry" in south central Kentucky, grew in my childhood backyard, but I have no memory of the fruits.
I thought we were adventurous eaters, with kohlrabi in the garden, gooseberries in the backyard, and a successful stretch of mushroom foraging that went beyond the treasured morels. Mother did the mushroom fact-checking and most of the gathering. Dad made the memorable pronouncement: "Anything's good cooked in browned butter."
In addition to eating new foods, learning to eat more from the Eden that surrounds me involves another timeless challenge: As people have always done, learning to eat -- and like -- those formerly disposable parts of foods, the bits I've usually discarded. It may as well be fun.
To paraphrase Tara Duggan's recent San Francisco Chronicle column, "Scrap Artistry," which is about using the whole plant and animal, anything's good layered in bechamel sauce and gratinéed. Yes, I can learn to like the stems of Swiss chard cooked that way. Probably. And maybe the year after next, I'll learn to like those stems just as they are, crunchy, beautiful, and -- if I can find the tastebuds -- delicious.
Photo Credit: AtWag - Thank you!
If you would like Savoring Kentucky posts to appear in your email inbox, but you are not already subscribing to Savoring Kentucky, click here.