Kentucky's Own Sweetness: Ruth Hunt, Since 1921
They were ready for me, and for my fellow author Jack DuArte, at wonderful Ruth Hunt Candies in equally sweet Mt. Sterling, Kentucky. 'Twas two days before Christmas, and all through the former bowling alley busy people made candy, sold candy, bought candy, talked books, signed books, and crossed just about everything off their last-minute shopping lists.
What a delight this place is! Larry Kezele, left, a good neighbor and a good guy, owns it. Larry stays in a low-grade run, looping through the front and back of the store, keeping the candy coming. I asked Larry if he still likes candy, and he says, "Oh, yes. The kind I like best changes from time to time, but I always have a favorite. When the chocolate-peanut butter fudge is just made...." I get the picture. And a flavor-vision, if that is possible, of the taste.
Larry is holding Jack DuArte's latest novel, Spitfire.
A whole lot of people seemed to know what they wanted when they came into the store: Cream candy. If you are from Kentucky, you probably know this pulled candy. If you have not yet had the pleasure, cream candy is like sugar made angelic and melty, held in a framework that lasts just long enough to get the candy into the mouth, where it sighs and swoons as it collapses across the tongue. In the candy kitchen, Ale-8-One suckers-to-be bubbled away in one of Ruth Hunt's collection of 90-year old copper pots (two views, below). Business has been good enough to require adding new copper pots to the array.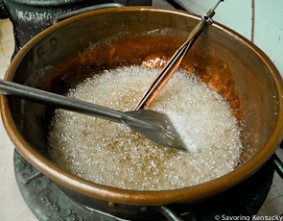 I saved myself for sorghum suckers. They are hand-wrapped, like all Ruth Hunt suckers and caramels. These perfectly sized lollipops make sorghum's essence almost solid. Their flavor? That taste of "buttery umami sweetness," as Kentucky native food writer Ronni Lundy recently dubbed it. (Ronni is the force behind The Zenchilada, an inventive online magazine that could use your support though Kickstarter to produce a print edition, "The Saffron Trail.")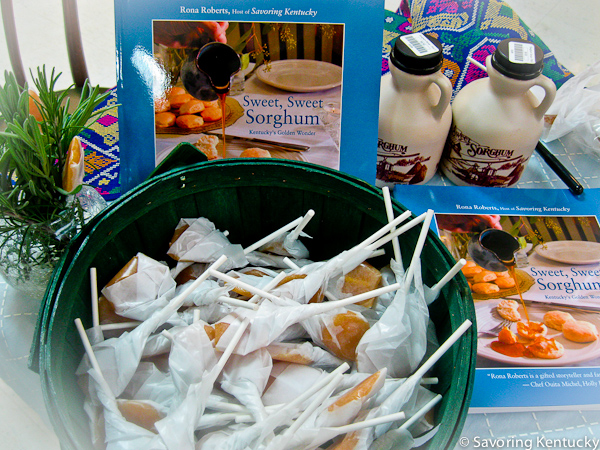 I was glad to be there and glad to see the store thriving. Here's to happiness—and sweetness, of course—for everyone at Ruth Hunt as they head into their 91st year.