Wild and Tame Meet Cultivated: An Outdoor Harvest Dinner in Kentucky
This will be more photo than essay. Through the old tobacco barn, one sees forward, toward finer, more permanent uses of Kentucky's rich land. On the third October weekend in 2009, several Kentucky farms offered outdoor dinners. And Savoring Kentucky LOVES outdoor farm dinners. (As who does not?) After Saturday's biting wind and miserable temperatures, Three Springs Farm got a spectacular day to celebrate 10 years of growing perfect, beautiful farm products for restaurants and home cooks. And these wonderful people/growers/writers/artists deserved the fine day and a thousand congratulations.
Three Springs Farm has recently expanded to include woodlands. The sycamores spoke their eloquent language, adding thrills to even the shortest walks around the farm.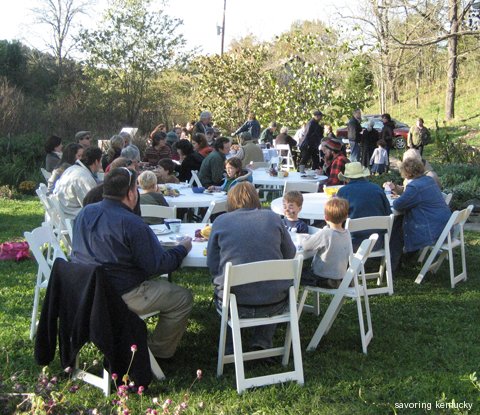 Dinner outdoors on a farm -- especially dinner from the farm's plants and animals -- collects the wild, the tame, and the cultivated all in a single point: Deep pleasure. As Alice Waters, ambassador for the pleasures of the plate and palate, has suggested to us in her visits to the Bluegrass State, we Kentuckians are investing more time and effort in treasuring the tastes of our farms. We thank the visionary, generous growers like David Wagoner, Arwen Donahue, and Phoebe of Three Springs Farm for guiding us farther along the path to full appreciation of Kentucky's bounty and beauty.