Ouita Michel Shows The Way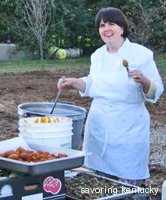 Ouita Michel, Midway's much-loved chef (and visionary, community activist, business developer, and more) adds a new plaudit. The James Beard Foundation recently named Chef Ouita one of 20 semifinalists in the "Best Chef: Southeast" category. The Foundation will announce five nominees from this category on March 23. Ultimate winners will be revealed in May. Can we help our heroine bring an "Oscar of the food world" home to the Bluegrass? Not unless we have friends among the foodie equivalent of the Academy of Motion Picture Arts and Sciences.
The James Beard Foundation describes its judges this way: "The judges include previous Restaurant and Chef Award winners, the Restaurant and Chef Awards Committee, 25 leading regional restaurant critics, food and wine editors, and culinary educators in each of the 10 regions. There are more than 400 judges nationwide."
Ouita says the judges in this secret nomination and voting process are instructed to vote only for places they have visited or for chefs they know personally. Judges are more likely to have visited Atlanta, Nashville, Charleston, Chapel Hill, and other food capitals in the southeast than tiny Midway - though those who come find Midway delightful as well as delicious.
In any case, Ouita wins our hearts and our appreciation all year every year with her strong support for Kentucky foods and Kentucky growers, Kentucky artisans and artists, and other good Kentucky causes. Right now, good food and wine events at many points along the price spectrum are planned at Holly Hill Inn and its sister restaurants in beautiful Woodford County. Cleveland's hosts a big green Irish feast for March 17, including Brisket of Bourbon Soaked Corned Beef and authentic Irish drinks. Diners can order a la carte or choose the Irish Tasting Menu for $25. Reservations: 859.879.6062.