Wine 201: Shorty's Cellar 157 Holiday Luxury Wine Tasting
Eight years ago, a nurse looked at some numbers on a piece of paper and said, "A glass of wine a day could be good for you at this stage," and I began a new taste journey. To fill this prescription, I headed to that great pharmacopeia, the Lexington Public Library. How else to prepare for the intimidating experience of going to an actual wine store?
At the Library, I discovered Great Wine Made Simple, by Andrea Immer, a terrific book for two reasons. First, master sommelier Immer offers a way to understand and remember the main types of wine that ended wine intimidation for me forever, immediately. Even more important, she organizes the book on a premise that wine tasting should be a done with a group of friends. Brilliant!
With 11 willing friends, I entered wine school—kindergarten, in my case—and the tuition is negligible. With 12 people tasting six bottles, the cost per person is cheaper than most movie tickets. We have graduated now to organizing at least six tastings a year, with the help of Immer and other books, and with hands-on tutorials from local wine wizards like Gary Dornberg of Corner Wine, Sal Marino at the Thoroughbred Shop, and Roger Leasor and "Wine Bob" of Liquor Barn.
When I joined the Wine Guild at Holly Hill Inn, three years ago, higher education began. The best, most practical, interesting higher education ever, thanks to the research and teaching gifts of Steve Mancuso, the Guild Master. The teacher/pupil ration is extraordinary. At monthly tastings, with no more than one large table of tasters at a time, Steve's blend of colorful history, geography, wine tech, and gossip gives each of six wines a memorable personality. Guild membership is free; tasting events usually cost $30, with special benefits for season subscribers. The carefully crafted monthly newsletters alone boost my wine IQ.
So even though I started late, after eight years of remediation, I thought I might be ready to enjoy and tell you about an event that happened this week. Shorty's, the popular, handy downtown Lexington grocery at 163 W. Short Street, has sprouted a petite but quite grown-up sibling wine store next door, Cellar 157 (at 157 West Short). Cellar 157 advertised a "Luxury Wine Tasting" through its Facebook page, and I bit...make that "sipped."
The Shorty's chefs produced the food, including a baked cheese pastry, crab Rangoon with two sauces, and a lot of tasty savories.
The event took place upstairs—a surprise space for me—in a handsome, narrow office with large gathering spaces at each end.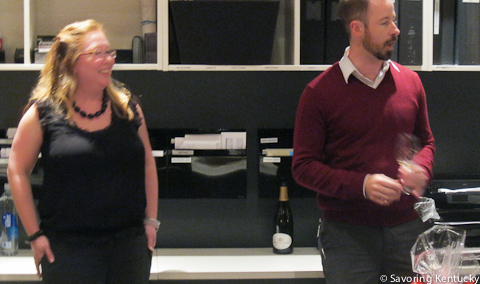 Some bows and baubles brought the "Holiday" to the party. Kate and Chris from Vanguard Wines, which imports, distributes, and wholesales wines in Kentucky, Ohio, and Indiana, conducted the tasting.
And what was it like? We tasted nine wines, each distinctive. Two wines stand out for me as being unlike any other of their type that I have tasted. (Insert the usual disclaimer: I am an intermediate beginner at wine tasting.) The tasting opened with Larmandier-Bernier Premier Cru, a "grower Champagne" produced by the same people who grew the grapes (unlike all the familiar big French Champagne producers, who buy and blend grapes from all over the Champagne region to get the flavors they want). The glass smelled like rising bread, and tasted unlike any other champagne or sparkling wine I had tried. If bread were liquid, light, and prickly, perhaps it would taste like this interesting drink.
My second biggest surprise came with the Martinelli Russian River Zinfandel, (Vellutini, I believe), which brought a burst of sweet spice into my mouth before any other flavor. Unlike most "big" Zins, this delightful drink seemed light and playful in taste, texture, and color.
Among the other seven wines, all but one surprised me in some way. Overall, each wine seemed to pack a wider range of flavors and sensations into a more contained package than most wines I have tasted before. I believe wine experts would praise these wines for their "structure" and "balance." I can simply say they were wines worth tasting.
On December 21, at 7:00 PM, Shorty's Cellar 157 offers another "Luxury Wine Tasting," this one focused exclusively on "grower Champagnes," a category of sparklers that has been missing in Lexington's wine stores until now. $20/Guest or $35/Couple. (859) 309-3810 Wine[at]Shortysgrocery.com
You don't get Savoring Kentucky posts by email, but you would like to, free? Here is our 110 percent no spam guarantee and email subscription information.