Reasons for Loving Reed Valley Orchard (A Few of Many)
In central Kentucky, love for Reed Valley Orchard may not yet be as widespread as love for University of Kentucky basketball (ahem: ranked second nationally in the AP pool but I think it might still be football season.) But we are getting there. Our ardor for apples—especially Reed Valley Orchard apples—grows stronger each year. I am starting to hear people claim, "I bleed cider," instead of "I bleed blue." We love the cider, and the apples, yes, and I'll get to that. But we love Trudie and Dana Reed and all the people who work for them. These are shiny people whose patience and kindness are legend.
The Reeds open their orchards all through harvest season to Faith Feeds, our region's amazing gleaners. Just after a gentle rain began falling in the Bluegrass, Savoring Kentucky happened on a radiant group of four gleaners at Windy Corner Market who had just finished picking up and loading trucks with at least a ton of exquisite Reed Valley apples for delivery to God's Pantry Food Bank.
Here's Dana Reed (ab0ve), just this morning, loading up a bushel of Gold Rush apples to sustain Savoring Kentucky and a friend or two across the next few months. And here's the important food tip in this piece: Gold Rush and other late fall apples store beautifully, for months, if treated well. The Reed Valley crew tries to tell everyone, and Savoring Kentucky wants to be their megaphone on this:
Seal unwashed apples in ziploc-style plastic bags.
Store the sealed bags in a refrigerator, cellar, or cool room.
Eat as needed. Gold Rush apples, in particular, will still be crunchy at least until late spring (tried that, proved it), and will gradually sweeten as they rest.
This beautiful person above, Jean, delights Lexington Farmers Market shoppers with her English accent, poise, apple knowledge, and strength. Last week she single-handedly loaded and hefted a half bushel of apples over to a 16-year old for transport to the Savor-mobile. I heard, third-hand, that Jean kept storage apples completely through the seasonal cycle this year, and had a few 2010 vintage fruit left when the new crop came in.
Larry (above) works the pear, cider, and jam end of the Reed Valley stand at the Lexington Farmers Market. No one gets away without a cheering word, an offered sample, and news of the next events at the Orchard.
Myrna (above) manages the middle of the long Market stand, and keep her good humor and sensibility through long stretches of non-stop, people-are-waiting sessions of sampling, bagging, and making change that would bewilder most of us. She is kindness itself.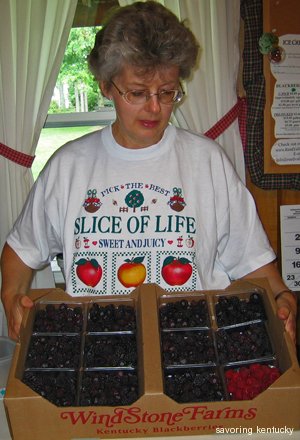 And then there's the very heart of Reed Valley's sweetness, Trudie Reed, who no longer comes to the Lexington Farmers Market. She sets the standard for lighting up a store, a booth, a street, or a community. We miss her in Lexington, and LOVE that we can see her any time during harvest season by making the beautiful drive to the Orchard at 239 Lail Lane near Paris and Cynthiana.
Savoring Kentucky has loved Reed Valley Orchard's people and apples since our origins, as seen here, here, and here, for just a few examples. I would call my personal love affair with apples serial monogamy. Or maybe it's seasonal monogamy. Going in order from earliest ripening, I love Earligolds for applesauce. Then Honeycrisps steal my affections. I think of no other apple until that happy Saturday morning when I walk up to the Reed Valley stand and see the Stayman Winesaps have arrived. I admit I may have a one-week fling somewhere in there with Mutsu (Crispin) or some other sensuous new darling. But it doesn't mean anything. My heart belongs to the steady progression that starts with gold and ends with gold. From Earligold at the beginning through the mighty Gold Rush orbs that close out the year, I steep myself in apples. And in the love, on every level, that the Reeds and their employees pour into their land, their fruit, their customers, and their work.
If you live outside central Kentucky—our condolences—look for just-picked, late fall apples at an orchard or farmers market near you, and lay in a good supply of sealable plastic bags. If you live in central Kentucky, take advantage of the fact that Reed Valley Orchard will be at Lexington Farmers Market at least one more Saturday (November 5). It's iffy after that, though the Orchard may be open a little bit longer.
You don't get Savoring Kentucky posts by email, but you would like to, free? Here is our 110 percent no spam guarantee and email subscription information.