My Zero Food Miles Lemon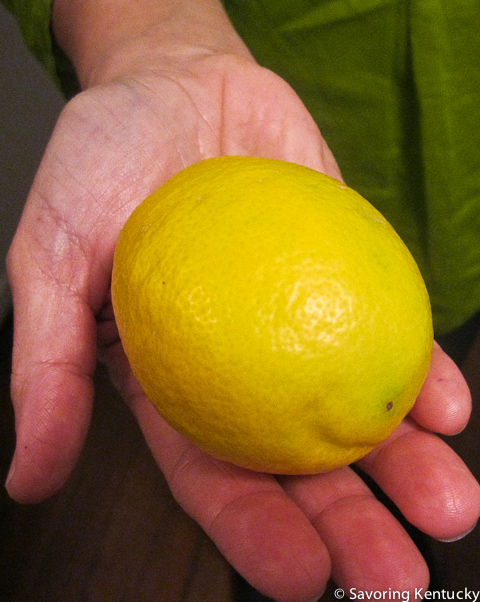 Sometimes when I imagine becoming more serious about eating a low-carbon diet, I enjoy pretend-choosing what one exception I would allow myself. The idea of the exception appealed to me when the Kingsolver-Hopp family invented it for their eat-local year, tenderly reported in Animal, Vegetable, Miracle.
Consistently, I choose "citrus," a nice big label that, with my lax standards, would allow several fruits into our (imaginary) otherwise Kentucky-sourced kitchen. Lemons are the main point, though. I cannot imagine a year—much less a life—without lemon and all its wondrous ways of improving food and drink.
When my precious neighbor walked around the corner this week to bring me the beautiful Meyer Lemon above, a gift from a tree she has nurtured for four years, I realized I've been thinking too small. With effort and protection, lemons and some other citrus fruit can grow in our temperate climate.
Not only does this realization allow me to move to another item on my fantasy exception list (coffee?), it stokes a different vision, driven by gardens near me, including the bountiful, Seedleaf-supported London Ferrill Community Garden and my neighbor's thriving small urban farm on a single house lot. What would happen if people in an urban neighborhood committed to growing and sharing as much of our own food as possible? The idea of sharing toward food self-sufficiency makes it seem more workable, because I can imagine contributing something I do well more easily than I can imagine doing everything well.
My neighbor's faith community practices "first fruits," giving away some or all of a plant or crop's first yield. For its first harvest, the Meyer Lemon tree bore 12 fruits.
Lemons pack powerhouse flavor. With my single lemon, I have made the (nearly) infallible Joy of Cooking Blender Hollandaise, adding brilliance to dark green local broccoli from Shorty's Grocery. The zest will add its elusive herbal-tangy high notes to ice cream I will make Monday for Cornbread Supper (you're always invited.)
Recent discovery, courtesy of another fine gardening friend who shared some Meyer Lemons she had been given: Vanilla-Meyer Lemon Cheesecake Ice Cream. It could hardly be easier.
Add 1/4 cup softened organic cream cheese, finely grated zest of one Meyer Lemon, an extra tablespoon of vanilla, and 1/4 teaspoon salt to the ingredients in Simple Vanilla Ice Cream; freeze as directed.
So far, no one complaints.
You don't get Savoring Kentucky posts by email, but you would like to, free? Here is our 110 percent no spam guarantee and email subscription information.