2012 Is Going To Be Stimulating!
With New Year's joy and delight, Savoring Kentucky welcomes new sponsor Debra's Social $timulus, super-champion of local economic investment, and of all we can do to make Lexington a great city. Founder Debra Hensley, shown above wearing her work gloves, is a natural wonder: a positive fountain of energy for goodness in our place and in the world.
Savoring Kentucky is honored to have the support of the person behind The Plantory/KCCJ, and Just Fund Kentucky, the living force for justice who served on Lexington's Urban County Council and worked tirelessly to establish The Hope Center, which provides shelter and other services for around 400 men and women. These are just some of the civic causes that Debra champions. In addition, she works full time as a trusted State Farm Insurance agent (since 1978!), and devotes herself to her family. In the speed-by grey of a main traffic artery, Debra's office on Nicholasville Road offers an oasis. Look for beautiful and edible plantings (remember those gardening gloves?), friendly invitations to drink water during summer's hottest days, and offerings of peace and welcome in a multitude of world languages and symbols.
Debra launched her Social $timulus when things looked bleakest about our economic future. The first $timulus event took place right on the front lawn at Debra's office, providing free, freshly prepared local barbecue and the trimmings to all who needed a bit of a lift. It turns out that a lot of us are in that category. For the second $timulus event, Debra moved around the corner onto Southland Drive to Morris Book Shop's old location. With the several hundred of us cheering on the inimitable March Madness Marching Band and listening to readings from Kentucky writers, a lot of stimulus happened, thanks to Debra's inventive combination of great local food, talent, local initiatives, and people who contribute ideas and inspiration to each other.
On February 3, 2012, Debra's Social $timulus will host Cooks for a Cause: 25 Cooks Showdown at God's Pantry (facebook). Planning began months ago, with Debra's trademark "Yes" attitude taking on issues like "No burners?" "We'll bring them in." "Not enough electricity for five teams of cooks to compete to cook the best food from a mystery food basket of God's Pantry items?" "We'll bring in more electricity."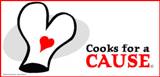 Debra says, "Prepare for bad weather. All my events take place in bad weather—and expect 300-400 people anyway." She speaks from experience, having produced events in floods, blizzards, and heat waves. God's Pantry has a huge space, but if the weather on February 3 is mild, it may not be large enough to hold the people in our community who want to contribute, to be part of the fun, to be part of the $timulus, with mutual benefits for all. I'll see you there. Along with 24 other Lexington cooks and chefs, I'll be wearing one of the 25 chef coats!
Savoring Kentucky thanks Debra and Debra's Social $timulus for investing in this local business. We're expecting a very good 2012, and send wishes for health, contentment, and prosperity to each wonderful reader.
You don't get Savoring Kentucky posts by email, but you would like to, free? Here is our 110 percent no spam guarantee and email subscription information.