Another Photo Approach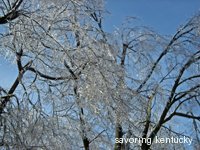 My apologies to all who subscribe by email to Savoring Kentucky. For you, the photo gallery from the most recent post, "Ordering Our Food," turned into a perfect mess. It is amusing in a slightly painful way to have the mess occur within a post that addressed order as its main topic. Technology is my best and surest path to humility. It is cheaper than Ego Management Training, and available, at least to me, many times each day.
I do not know how to make photo galleries work across the variety of subscribers' email systems, so I will not use that approach again -- we can hope.
Here is a link to the posted gallery of orderly food and ag photos in their original location in my Picasa albums.
The world around us in Lexington and in Kentucky during the past few days has been even more photogenic than the food we eat. Here is a photo collage (Picasa, again) of the 2009 ice storm right around our downtown house.