Thank You, Sam Barnes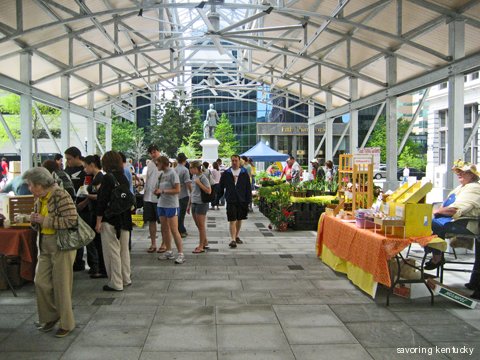 I am among the thousands of central Kentuckians who did not know Sam Barnes personally, yet have experienced benefits from his work to make our community great. I am grateful for his life, and for his habit of saying "Yes" to ideas and projects that improve life in our place.
Tuesday evening, just before I learned of Mr. Barnes's untimely death, I went to take photos of some energetic volunteers making soup from fresh garden produce in a church basement. I had difficulty finding good light and good photos in the basement setting, difficulty finding ways to show the beauty of the people and the food. I wondered why food preparation in many of our institutions is so often relegated to dark, cramped underground spaces.
By contrast, I thought with gratitude of the way the new Fifth Third Bank Pavilion at Cheapside Park elevates Kentucky's exquisite food and its growers and producers at the Saturday Lexington Farmers Market. Sam Barnes's leadership in championing and raising significant funding for the Pavilion makes us love our own place more, and in doing so, affects the lives and livelihoods of the Lexington Farmers Market farmers, vendors, and patrons.
People love being in the Pavilion. It raises spirits and uplifts the healthy commerce taking place within its light shelter. I can even imagine that the pleasures of this space will have a positive impact on the hundreds of children who come to the Saturday Market, fostering an unbreakable connection in their minds between delight and real, sustainable, locally grown food and farmers.
Sam Barnes used his position and capacity to give our community fine gifts in many categories. With the Fifth Third Bank Pavilion, which has many other uses in addition to the Saturday Market, Mr. Barnes leaves a legacy of empowering us to see ourselves and our activities literally in a different light, a light of promise and plenty.
I honor this legacy, and send heartfelt sympathy to Mr. Barnes's loved ones.