Packing Heat in Veggie Form: Bhut Jolokia Peppers at the Lexington Farmers Market
Applause for Cleary Hill Farm, which brings a wide and intriguing array of homegrown food to the Lexington Farmers Market weekly. Some of the veggies come with stories, too.
For example, while I was eyeing and processing the information about the Bhut Jolokia peppers -- prepare for overheated prose about them in a sec -- I took a keen interest in some unusual, small, pointy-ended tomatoes, and asked some questions about them. Yes, they are a paste-type; yes, they should dry well. Their name: San Genovese.
As the six available boxes jumped off the counter and into my shopping bag, I learned that seeds for these tomatoes are, sure enough, not sold in stores. The tomatoes that had danced their pointy little way onto my "buy" list could be considered contraband.
The Cleary Hill farmers grew the tomatoes from seeds smuggled into the country direct from Italy, courtesy of Italian foodie friends. Next year, if all goes well, there will be more San Genovese tomatoes for central Kentucky, grown from seeds saved from this year's first crop.
That's a sweet, benign story, in spite of the "smuggled" and "contraband" labels attached to the innocent looking little pointy red orbs.
But now we come back to the menacing Bhut Jolokiaor "Ghost Pepper," aka "The Hottest Pepper on Earth." Warning: Things are about to get sinister. And you may want to locate a hand fan. This story warms more than the heart.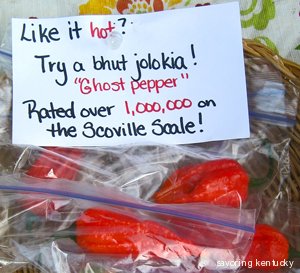 At Cleary Hill Farms, the basket of mostly green Bhut Jolokia peppers came with a warning: Please use extreme caution. This made me laugh, but the Cleary Hill growers did not crack a smile. They pointed out the Scoville Scale or spicy heat unit number for the Bhut Jolokia, posted on sealed baggies of red BJs: "Rated over 1,000,000 on the Scoville Scale!"
Compare with up to 50,000 for cayenne pepper, and up to a maximum of 350,000 for the hottest habañeros. Yes, I warmed up to the idea that "hottest pepper on earth" means something rather scary.
I'm a pepper wimp - so I stopped laughing and started pointing my camera at these terrifying tubes of fire. The farmers shared the Bhut Jolokia story: they pack heat so devastating they may help smoke terrorists out of caves. Using impressive footnotes, Wikipedia documents this assertion. The entry reads, in part:
In 2009, scientists at India's Defence Research and Development Organisation announced plans to use the chillies in hand grenades, as a non lethal way to flush out terrorists from their hideouts and to control rioters. It will also be developed into pepper spray as a self defense product. [Red font added for the fun of it]
You may know this already: YouTube features more than 1,000 YouTube videos on the topic of the Bhut Jolokia, of which approximately 99.9 percent appear to be males offering macho or nonchalant faces to the camera before eating a bite (or a pepper) and becoming so uncomfortable (that's a euphemism for "writhing in agony") that I became too uncomfortable to watch. Me and nearly a million viewers of some of the videos, in some cases, which is why I thought you may already know all about this astonishing plant that I met, at a safe distance, only yesterday.
Having backed away slowly, carefully from that Lexington Farmers Market table, my only remaining question is about that "non lethal" aspect of the hand grenade. I'm less sure of that qualifier, having watched bits of the videos that purport to show the impact of Bhut Jolokia on fully suspecting human beings.
You don't get Savoring Kentucky posts by email, but you would like to, free? Here is our 110 percent no spam guarantee and email subscription information.
The world is coming to visit central Kentucky this year for the Alltech FEI World Equestrian Games. To help our visitors know more about Kentucky's food and food ways, Savoring Kentucky is rolling out 116 Savory Kentucky Bites, one for each of the 100 days before WEG begins, and 16 for the days during WEG, September 25 - October 10. Today's Savory Bite is number 61.